Gaming nowadays is not just a hobby, it is becoming a high-income profession thanks to the development of live-streaming platforms. In fact, Video game live streaming has become an important part of the gamers' community. So, if you are going to start your own gaming live stream, this is a great time to do so. But first, you need to choose your streaming platform. There are plenty of options out there such as Facebook, YouTube, or Discord.  In this article, we will provide you a basic guide on how to live stream on Twitch, the most popular live streaming platform today. Let's check it out!
Hardware Requirements
Before you can create your own Twitch channel and start streaming your games, you have to create a good technical framework first. Here are the hardware requirements to consider:
System performance: Broadcasting a twitch stream will consume extra system resources. So, you need to make sure that your computer is powerful enough for streaming. In fact, Twitch recommends at least one Intel Core i5-4670 or a comparable AMD model and 8GB of RAM for streaming PC games. The OS also requires at least Windows 7 or later.
Webcam:  In principle, it does not require you to show yourself on the camera during a stream. However, having a webcam that captures your visual expression can help you better interact with your viewers. In fact, a successful streaming session on Twitch usually requires you to play the games in front of a camera. Luckily, corresponding webcams that deliver HD-quality images are quite cheap nowadays. You can find some decent ones for under $50
Microphone: Alongside background music, your own audio commentary will create another characteristic for your Twitch channels. You can analyze your gameplay or talk with the viewers when playing games to make the stream more lively. A simple headset microphone is good enough for audio recording. But if you want something of a higher standard, we recommend using a stand-alone USB microphone.
Network: You also need to have enough bandwidth in order to make your stream work smoothly.
Setup Your Twitch Channels
Once you have the hardware you need, you can start setting up your Twitch account and linking to the streaming software.
Step 1: Install Streaming Software
Start by choosing a streaming software and then visit their website to download the installation files. There is plenty of software that can help you in this case, for example, Bebo, Gameshow, or XSplit Gamecaster. In this guide, we will use the OBS studio for all the processes. It's available to download for free from obsproject.com. 
Step 2: Create a Twitch account
The next thing you need to do is to create a Twitch account. Go to the Twitch homepage and select the register button located at the top right of the navigation bar. The registration is completely free. It only requires a username, password, and valid email address. After entering your information, you will receive a confirmation email, including a verification link. Follow the instructions in that email to verify your account.
Step 3: Set up your Twitch channel
Once you have completed the registration, you can log in with your newly-created Twitch account and start customizing your personal streaming channel.
Open the settings in the user menu by clicking on the triangle icon in the navigation bar. Doing this will lead you to your profile menu. From there, you can set the display name (which can be the same as your username) and the profile picture for your Twitch channel. You can also submit up to 300 characters of personal biography or channel description. 
For more settings, switch to the "Chanel & Video" tab. There you can change the basic settings for Chanel design, Automatic hosting, Parental Control, and Chat.
Step 4: Configure your Twitch channel
After you have created the basis for your channel in the previous step, you can now focus on how your channel will reach the audience. Luckily, Twitch does provide some tools for you to manage your fanbase. You can access these tools via the Creator dashboard when in the user menu. Apart from being able to post messages to your chat feed, the Insight menu also offers you access to viewer statistics and a list of all your viewers. However, an important tool for configuring your channel is the 'Stream Information' section of the menu, which allows you to change settings in the following five areas:
Step 5: Linking Broadcasting Software to Twitch
The last thing you need to do before starting a live broadcast is to launch the OBS Studio (or any other streaming software you have decided to use). In the settings menu, look for the term 'stream', then, you can begin configuring it to your Twitch channel.
You can keep the default settings for your stream and platform, and leaving the automatic server enabled. OBS always selects the Twitch server that best suits your streaming activities. However, the setting of Stream Key is particularly important. It establishes the connection between the streaming software and your channel. To obtain this key, you have to head back to the Twitch dashboard and open the Preferences setting
Under the Primary Stream Key box, click Show to make your Stream key visible. A dialog box will pop up and inform you not to share your key with others (not even Twitch employees, moderators, or admins). Close the dialog box by clicking on I Understand then you can copy-and-paste the key into the corresponding line in OBS studio. After that, click Apply to save the entry and your link is complete. The stream key generated by Twitch is the equivalent of a user ID but can be replaced at any time by generating a new key in case something goes wrong.
Step 6: Start Your Stream
Now it's time to start your live stream on Twitch!. In the OBS studio interface, right-click on the 'sources' box to select which windows the stream will capture from your computer. These include games, software, browsers, or even your whole screen activity.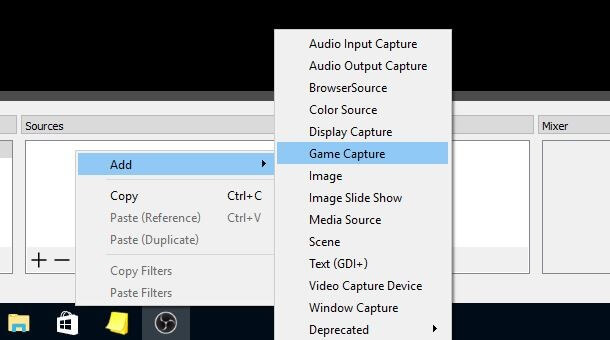 Click on the 'Studio Mode' button to preview. You can use this to align all the elements perfectly, as long as you use several transmission components, like recording game scenes in combination with a webcam recording of yourself. If you are happy with this setup, you can begin streaming by clicking the Start Streaming button. If you want to stop streaming, simply hit the Stop Streaming button.
Stream On Twitch With Your Console
Twitch now supports video game streaming from consoles including PlayStation and Xbox. In fact, both of them have a built-in companion that allows you to stream your content to Twitch easily. To learn more about how to do this, check out this official guide by Twitch TV.
There you go, that's our guide on how to live stream on Twitch. If you have any problem, let us know in the comments.